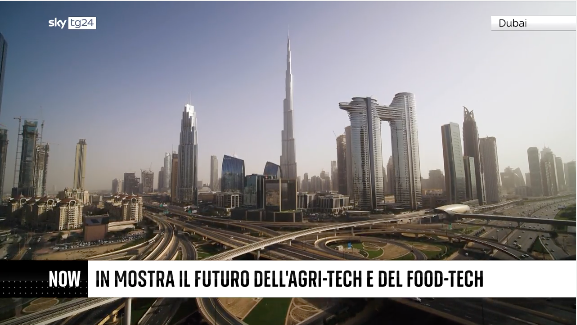 The future of Agri-Tech and Food-Tech makes a stop in the UAE, in the week dedicated by Expo to food and sustainable agriculture
Intesa Sanpaolo Innovation Center has promoted a meeting between a selection of Italian companies, UAE investment funds, and Israeli Agri-Tech startups, part of Startup Nation Center's portfolio. The initiative is one of the fruits of the "Abraham Agreements" signed just in 2020 between the Emirates and Israel, which, in addition to promoting peace between the two countries, foster financial, commercial, and technological exchanges with a focus on innovation in Agri&Food, of which Israel boasts one of the most innovative ecosystems.  
The proposals that impressed us the most
CropX brings soil data analytics to smartphones to help farmers make the best decisions about when to cultivate or harvest. The startup specializes in developing solutions for farms and agricultural decision-making.
BeeHero has created a machine learning platform that helps beekeepers analyze the state of the hive; it can predict hive disturbances, mitigate colony collapse, and track pollination progress. The startup provides beekeepers with sensors installed inside the hives to collect environmental data and information.
Hargol produces food supplements derived from insects and grasshoppers that give 70 percent more protein than classic supplements and are more sustainable in terms of environmental impact.
Meetech produces synthetic meat in the laboratory, and this keeps emissions down.
Salicrop has developed technology to improve seed performance, even in high salinity conditions, and increase agricultural yields. The startup has a mission to enhance seed value and increase crop productivity.
Viridix has devised a system that continuously generates soil moisture data, sending useful information and irrigation alerts to farmers via an app.
Tevel Aerobotics Technologies is a fleet of flying robots that take care of harvesting in orchards.
SeeTree is a "tree intelligence" platform that provides information for growers to monitor the health and productivity of their trees. It uses drones, satellites, and IoT sensors to analyze up to hundreds of millions of trees.
Israeli startups met with a delegation of Italian companies operating in the food sector in an event organized and coordinated by SVA Group, in partnership with Intesa Sanpaolo Innovation Center, Israel-Italy Chamber of Commerce and Industry, Fondazione Politecnico di Milano and Regione Lombardia at the Intercontinental Hotel in Dubai Marina. On the second day, SVA Group accompanied the delegation of Italian companies and Israeli startups on a tour of Dubai's commercial free zones, including DMCC, DIFC, and Dubai Global Connect, to develop business opportunities.